Limited Edition SwarovskiT Shark Ornament w Two 2020 Trump Champagne FlutesT i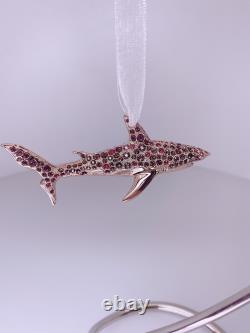 Limited Special Edition - Give the gift of luxury, give the gift of perfection with our new SwarovskiT Gift Box - Two TRUMP Champagne FlutesT paired with a SwarovskiT Crystal Shark Ornament (choose between Rhodium Montana or Rose Gold) in a beautiful LED enhanced gift box! Adventure awaits with every sip. What appears at first to be an ordinary wine glass becomes more dangerous as a fin suddenly appears. Fortunately for the drinker, this shark is docile - although mighty thirsty! He prefers red seas of wine but enjoys blush and white seas as well.
The sparkling handcrafted lead-free crystal Two TRUMP Champagne FlutesT is built to withstand multiple attacks from the drinker. Handle with care, or the shark may bite!
Handcrafted lead-free crystal Two TRUMP Champagne FlutesT is hand-wash only. As each glass is hand made, each one is special and may not look identical to the others ones. 2 - TRUMP Champagne FlutesT. 1 - SwarovskiT Shark Ornament, and a beautiful LED enhanced gift box. Elegant and similar to a Riedel quality wine glass. Size: Approximately as they are all hand blown and hand crafted - 24cm (9.5") height x 10cm (4") round at the widest. 7cm (2.75") opening at the top and 8cm (3") round at the base. Capacity: Approximately 22 ounces (650ml).
The SwarovskiT Ornament Stand in the pictures is NOT Included. Do not forget to check out The Original Shark Wine GlassT and all our other great products as well in our store! Check out our Official pages at.
The Shark Wine GlassT and The Stemless Shark Wine GlassT are divisions of Glass House GlasswareT. Cleaning procedures recommended when cleaning your glassware.
Since the object is very delicate, Clean them as follows. Gently wash the outside of the glass. Gently wash the inside rim of the glass. Rinse out the inside of the glass with hot water a few times. Put a drop of dish soap in the glass and fill with warm/hot water.
Let sit for a few hours or overnight and rinse out the inside. Let air dry or dry the outside as normal and let the inside air dry. I would refrain from sticking your fingers in the glass and breaking the object off. Glass House Glassware and The Shark Wine Glass do not affiliate with ay political parties.