Limited Edition SwarovskiT Shark Ornament with Two Shark Wine GlassesT in a Be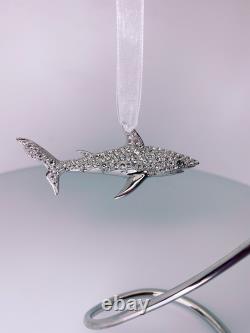 Limited Special Edition - Give the gift of luxury, give the gift of perfection with our new SwarovskiT Gift Box - Two Original Shark Wine GlassesT paired with a SwarovskiT Crystal Shark Ornament (choose between Rhodium Montana or Rose Gold) in a beautiful LED enhanced gift box! Adventure awaits with every sip. What appears at first to be an ordinary wine glass becomes more dangerous as a fin suddenly appears. Fortunately for the drinker, this shark is docile - although mighty thirsty!
He prefers red seas of wine but enjoys blush and white seas as well. The sparkling handcrafted lead-free crystal The Shark Wine GlassT is built to withstand multiple attacks from the drinker. Handle with care, or the shark may bite! Handcrafted lead-free crystal The Shark Wine GlassT is hand-wash only. As each glass is hand made, each one is special and may not look identical to the others ones.
Specifications: 2 - The Shark Wine GlassesT, 1 - SwarovskiT Shark Ornament, and a beautiful LED enhanced gift box. Elegant and similar to a Riedel quality wine glass. Size: Approximately as they are all hand blown and hand crafted - 24cm (9.5") height x 10cm (4") round at the widest. 7cm (2.75") opening at the top and 8cm (3") round at the base.
Capacity: Approximately 22 ounces (650ml). Check out our Official pages at: and The Shark Wine GlassT and The Stemless Shark Wine GlassT are divisions of Glass House GlasswareT. Cleaning procedures recommended when cleaning your glassware: Since the object is very delicate, Clean them as follows: 1. Gently wash the outside of the glass. Gently wash the inside rim of the glass.
Rinse out the inside of the glass with hot water a few times. Put a drop of dish soap in the glass and fill with warm/hot water. Let sit for a few hours or overnight and rinse out the inside.
Let air dry or dry the outside as normal and let the inside air dry. I would refrain from sticking your fingers in the glass and breaking the object off.