Perthshire 1982C Magnum Millefiori Garland Paperweight Ann Coll Ltd Ed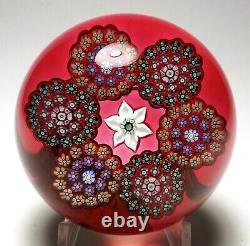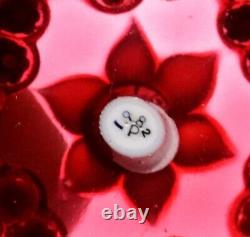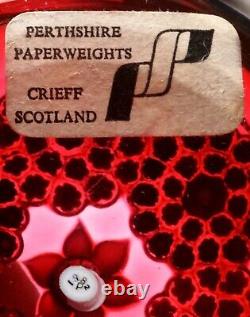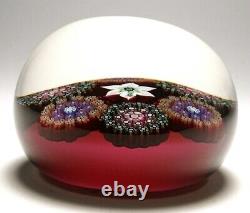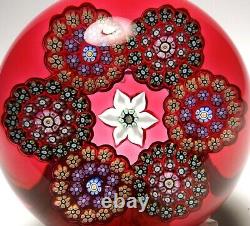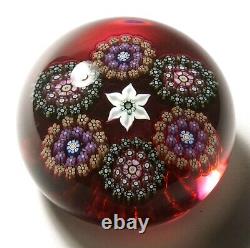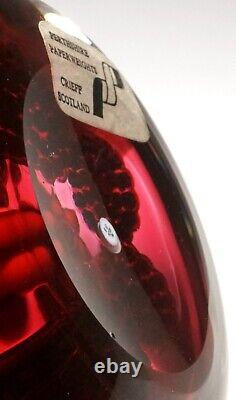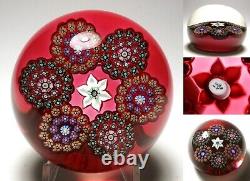 Perthshire 1982C Magnum Millefiori Garland Paperweight - Annual Collection Limited Edition. Perthshire Annual Collection 1982C Limited Edition Magnum Millefiori Garland Paperweight. This extra large paperweight features a white six petaled flower surrounded by six millefiori clusters.
Each cluster consists of two rings of complex canes around a central cane. The design is closely arranged over a translucent ruby ground. It is signed on the base under the flower with a "P 1982" signature cane. There is also a paper label "PERTHSHIRE PAPERWEIGHTS CRIEFF SCOTLAND". The edition size was set at 300, but only 165 were made. The Perthshire Annual Collection Paperweights were special limited edition designs that offered one year only. Each year's editions were lettered to indicate this special status. In 1982 they made eight special designs designated A through H. This design was designated 1982C. These were the top of the Perthshire line. Please Note: The stand shown in the pictures is not included with the paperweight. It is shown for illustration only. Note on white glare : Please ignore the white areas, they are glare from the light. Perthshire was a small company in Crieff, Scotland that was devoted to the creation of quality glass paperweights. They stopped production in January 2002 after more than 30 years of production. Their paperweights were consistently high in quality and yet remained reasonable in price. The birth of Scottish paperweight making is credited to the glass making family of Salvador Ysart, who moved to Crieff, Scotland in 1922. They worked first at John Moncrieff Ltd and made the earliest Scottish paperweights during that period. In 1946 Salvadore and his sons Augustine and Vincent founded Ysart Brothers Glass and produced glass wares under the Vasart label. Salvador Ysart died in 1955 The company name was later changed to Vasart Glass.
Stuart Drysdale was hired manage the business side of the enterprise in 1960. The company evolved into a new company Strathearn owned by Teachers Whiskey. In 1967 Drysdale was sent a magazine article on antique paperweights (Woman's Day, July 1965). The inspired him to try to produce weights comparable to the French antiques.
With this goal in mind, he and several of the glass workers left Strathearn to found Perthshire in 1968. Very large size: Just over 3 1/8" diameter by 2 1/4" high. The base is hollow ground. Condition: One tiny pinprick on the base.
Otherwise in excellent condition with no cracks, chips, or scratches found on inspection. Signature: Signed with a complex "P 1982" signature cane on the base under the flower. Allan's Paperweights is owned by Allan Port.
If in doubt, please check with me first. Please do not ask me to declare this a gift.